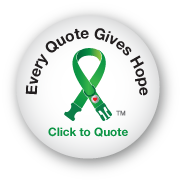 Our pet passionate team has been fortunate to be on the front lines of rescuing animals, providing critical care, and then placing them in happy homes. From helping the injured pets found in the aftermath of Hurricane Katrina to fostering an abandoned litter of puppies, we know that every homeless pet needs some medical care before having a chance at being adopted into a caring family.
Wanting to address this fundamental need of medical care, we created the Healthy Paws' Every Quote Gives Hope™ program. The simple act of getting a pet insurance quote from Healthy Paws results in a donation towards a homeless pet's medical care. We deliver that care by making cash grants to pet adoption organizations specifically for life-saving vaccines, spay/neuter surgeries, and advanced medical treatments.
With your quote, you give medical care to a homeless pet in need. And with your enrollment, you join our movement to help the millions of homeless pets have a happier, healthier tomorrow.
Why Grants for Advanced Medical Care?
Often times, a pet is simply unlucky. The stray cat that is attacked by a raccoon or a dog that has a seriously injured leg requiring amputation. We know that these homeless pets will make great additions to a loving family but first we need to get them back to health.
Surgeries, hospitalizations and post-surgery care all require time and financial resources. Through our grant programs, we hope to help the tireless rescuers who believe like we do, that these pets deserve a second chance. Once healthy, these dogs and cats will give their family unconditional love and loyalty that is simply priceless.
Why Grants for Vaccines?
Vaccinating pets is one of the easiest ways to help them, live long, healthy lives. On average, vaccines cost between $3-15 and are administered as a series when they are puppies or kittens and then repeated as the pet ages to maintain protection.
Not vaccinating homeless dogs or cats (especially puppies and kittens) may result in serious illnesses, or even death. Equally important, sick animals put more stress on the rescue's financial resources and are not easily adoptable.
Here are four serious conditions that we can help address through our grant programs. Excellent vaccines have been developed to prevent these illnesses and should be part of preparing any homeless pet for adoption into their new home:
Distemper Virus
Canine and feline distemper is serious, contagious, and risks a high death rate or serious damage to the pet's brain, eyes, intestinal and respiratory tracts. The most common signs are nasal and eye discharge, coughing, diarrhea, vomiting, fever that may come and go, and seizures. Others may develop pneumonia.
Parvovirus
Canine parvovirus is a highly contagious viral disease that can produce a life-threatening illness. The virus attacks rapidly dividing cells in a dog's body, most severely affecting the intestinal tract. The general symptoms of parvovirus are lethargy, severe vomiting, loss of appetite and bloody, foul-smelling diarrhea that can lead to life-threatening dehydration. Parvovirus is extremely contagious and can be transmitted by any person, animal or object that comes in contact with an infected dog's feces.
Rabies
Rabies is a 100% fatal disease. Because there is no effective treatment and the disease can also infect humans, vaccination against the rabies virus is required by law in most states. There is no treatment or cure for rabies once symptoms appear. Keeping your pet up to date with vaccinations is essential to prevention.
Heartworm
A heartworm is a parasitic worm that lives in the heart and pulmonary arteries of an infected dog or cat. The worms travel through the bloodstream harming arteries and vital organs. Heartworm disease is serious, and can be fatal. The good news is that heartworm is easy preventable with an inexpensive, chewable pill available with a vet's prescription.
Why Grants for Spay/Neuter?
There are approximately 12,000 animal rescue groups in the United States that try to help adopt out the 6-8 millions pets that enter shelters every year. But every year, millions of cats and dogs of all ages and breeds are euthanized or suffer as strays due the large amount of unwanted litters. Through our grant programs, we can help pet adoption organizations spay and neuter their homeless pets and promote low-cost spay/neuter programs in their community.
Apply for a Grant - 2014 Homeless Pet Medical Fund
Healthy Paws' customers have given us the special privilege of protecting their pets and helping care for the many homeless pets in their local communities. Together, we can give all pets a healthier and happier tomorrow.
If you are a decision maker with a progressive animal adoption group and would like to learn more, please
contact us
today.