Pet Care. Pet Training. Pet Stories.

Pet Care. Pet Training. Pet Stories.

Pet Care. Pet Training. Pet Stories.
How to Be a Prepared Pet Parent
There's more to being a pet parent than simply making sure your loved one has the right food, a clean bowl of water and a comfy bed. Sure, pets also need exercise, baths, and love, but what about the unexpected?
With all the natural disasters happening recently, we started wondering how would you take care of your pet? Over 70,000 pets were lost, abandoned or killed during Hurricane Katrina and only 20,000 have been recovered to their owners. Our own Steve Siadek rescued over 1,000 pets as part of a concerted effort down in New Orleans.
As a responsible pet parent, here are the top 5 things you can do to be prepared when disasters strike:
Post a Rescue Alert sticker near your front door. If a fire or other disaster occurs, this allows rescue services to know there are animals inside the home. You can pick one up at a local pet store or from the ASPCA website.
Have a "safe haven" for your pet. Have another location you can keep your pet at in case you are injured or sent to a disaster shelter that does not accept pets. Ideally, the place would be far enough from your own house that it wouldn't be affected by a disaster, but that it wouldn't be inconvenient to transport your pet.
Make sure all your animals have tags and/or microchips. If you are ever separated from your pets, it's important that they are able to be returned to you! Attach tags that have both the pet's name and an easily reachable phone number. Microchips are even better – they're small tags implanted in a pet's shoulder that contain your contact information. Vets or shelters can easily read them using a scanner if your pet is found.
Put together a medical kit. Medical supplies like hydrogen peroxide, antiseptic wipes, an instant cold pack, and antibiotic ointment should always be handy. Cotton swabs, gauze pads, latex gloves, and adhesive tape are also good to pack into a medical kit. Never give an animal human medication like ibuprofen and Benadryl without first consulting a veterinarian!
Create an emergency survival kit for your animals. It should contain food, medical supplies, and tools to help contain pets. Make sure all paper materials are sealed in a watertight container, like a Ziploc bag. The following supplies should be included:
A leash or harness (for dogs)
A weeks' worth of canned food and water
Disposable litter trays with litter
Food and water dishes
Blanket
A traveling bag, box, or crate
Recent photos of your pet
Phone numbers and addresses for animal shelters and vets in your area
Animal-specific medical kit (see above)
In the event of a natural disaster, such as a tornado, earthquake or hurricane, it's important to watch out for yourself and your pet's safety. Have a disaster plan for your whole family including your pet. As always, prepare for the worst – have recent photos of your pets on hand and equip your animals with tags and microchips in case you are separated. And learn about pet insurance in case your pet is injured and you can't afford all those vet bills in addition to other unexpected expenses.
Prepare as much as you can for the unexpected, and it's likely you'll end up with a game plan and have additional peace of mind!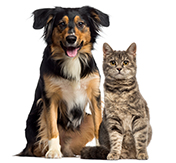 How to Save 90% on Vet Bills
Healthy Paws Pet Insurance covers up to 90% of vet bills for your dog or cat—for a lifetime.
How to Save 90% on Vet Bills
Healthy Paws Pet Insurance covers up to 90% of vet bills for your dog or cat—for a lifetime.
Top Stories

Categories

Who We Follow