On the way home from work, you make a pit stop at the pet store to grab some of your dog's favorite treats.
When you walk in the front door, those eager eyes are begging you to tell them what you have in the bag. "Whattaya got for me, whattaya got for me" says the wagging tail. So you put the new treats into the bowl and your usually docile pup churns out an uncharacteristically nasty growl. "Where did that come from?" you think to yourself.
The reality is, almost all of us have experienced one or two instances when our pets have shown some form of aggressive behavior during meal time. This might be due to occasional mood swings, oh yes our pets have their own personalities, too! But it's concerning when they exhibit this behavior during meal time.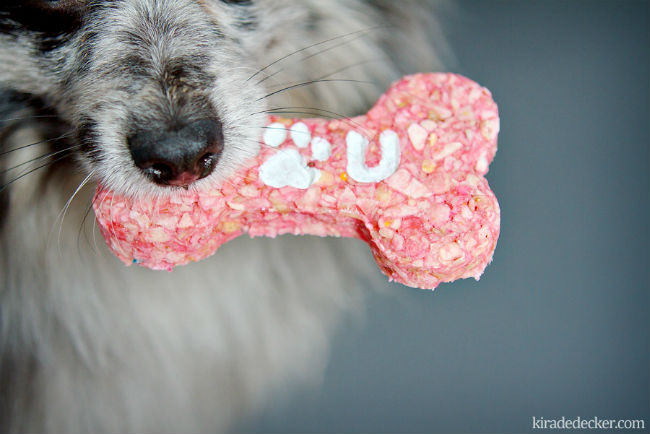 Photo courtesy of kiradedecker.com
The trouble with many pet parents is that they usually respond with force when they see this type of aggressive behavior. In an effort to show who's boss, we often respond back with our own aggressive fit. The problem is that when we fight fire with fire, we forget that even the most domesticated pets still possess animal instincts.  Rather than dousing their fire, pets with this condition gnarl at their pet parents further aggravating the situation.
Showing who is top dog may calm your dog's fits when you're around the table, but what happens when you're not there? Guests and other family members may not have the same respect that Fido has shown you and this may lead to serious accidents.
Let your pet gradually accept your presence by first placing a small portion of his dog meal and moving to a safe distance. When he or she is almost done, slowly approach and toss the treat(s) into their bowl. Do this a couple of times moving closer each day. Take note of gestures and measure their personal space. The key here is to keep your dog relaxed during this process. Then, gradually shorten the distance until they're able to build trust & not feel the need to be overly protective of their new treats. And to ensure that he is comfortable with people around, bring in family members during feeding time. If no real progress is achieved then proceed to the next step.
For those with extremely difficult pets, try removing their food bowl. They might have grown too attached with their food bowl that they regard anyone's presence as a threat. Start his training by placing a leash during meal time. Delay their regular meal time by a few hours to make it easier for you to feed them. Toss his meal before them making sure that you are always at a safe distance. Do this for a few weeks to get him accustomed to your presence during meal time.
When you think that your pet is ready to be bowl fed, proceed to the first step. Just remember to keep them leashed during training. Do each step in the process one or two weeks at a time – and keep a watchful eye during meal times. Be especially careful when guests or small children are around, too.
Many pups never have this form of treat aggression. Many do. So it's goo do be aware of.
And certainly, if these tips don't lead to the results you're looking for, then consult a professional dog trainer. Working with a professional dog trainer can help you and your dog deal with this and help you keep treat time as enjoyable as it should be for both you, your pet and your everyone in your family.