In a city where millions of people find themselves cramped in small places, Boston's Public Park and JFK in Cambridge will always be a welcome respite for the city's two and four-legged residents. It is also here where you could catch an occasional glimpse of pet parents taking snapshots of their furry, four-legged friends.
Yes, Boston loves their Red Sox and their pets. And luckily, they also happen to have these awesome pet photographers who could shoot photos out of the ballpark. Just like professional ballplayers with ridiculous RBIs, Boston's A-list of pet photographers is ready to send the competition packing for the next season.
Pet photographers are a breed of their own and the photographs below are like precious home runs for pet owners who are lucky enough to have their pet's photos batted by these photographer's lenses.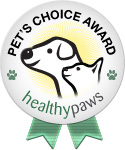 Our thanks go to the gracious pet photographers for sharing some of their best works here at Healthy Paws. Great pet photographs should never be a Hit or Miss or a Minor League game. If you want to play with the big boys then these pet photographers are your best bet at bat. So lets sit back and enjoy grab your ball caps, Cracker Jacks, and let these pet photographers take us for a ride.