Pet Care. Pet Training. Pet Stories.

Pet Care. Pet Training. Pet Stories.
8 Pets Available for Adoption on Adopt a Shelter Pet Day
04/25/2017 by
Colleen Williams
April 25th, 2017 by
Colleen Williams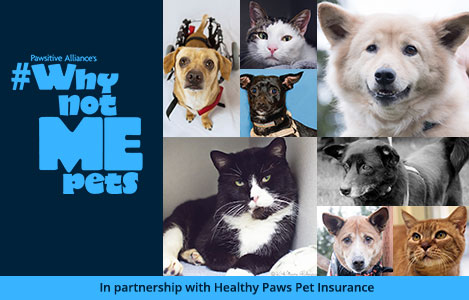 National Adopt a Shelter Pet Day is observed each year on April 30th to raise awareness for pups and cats in need of a home to call their own. In honor of the holiday, we're giving a special salute to our friends at Pawsitive Alliance, an organization that gives difficult-to-home pets an "extra paw up" via their #WhyNotMePets campaign.
Healthy Paws is working to bring extra exposure to these adoptable pets by sharing their stories, and while a few of the lucky ones have landed with forever families, there are so many more pets that need a home.
It had been a long road for the first pet we introduced, Leroy, but he finally found his forever home this month and was even featured on the local news! Another pup, Rudy, also found his new family mid-April and is acclimating quite nicely.
So, if you're still looking for a friend to call your own, the following pets are available for adoption:
For more pets from Pawsitive Alliance, check out their Facebook page, or wait for #WhyNotMeWednesdays when we profile a new pet from the #WhyNotMePets campaign. Visit the #WhyNotMePets page for a list of all the adoptable dogs and cats we've highlighted so far.