Pet Care. Pet Training. Pet Stories.

Pet Care. Pet Training. Pet Stories.
Why Not Me? Meet Chewey!
04/04/2018 by
Colleen Williams
April 4th, 2018 by
Colleen Williams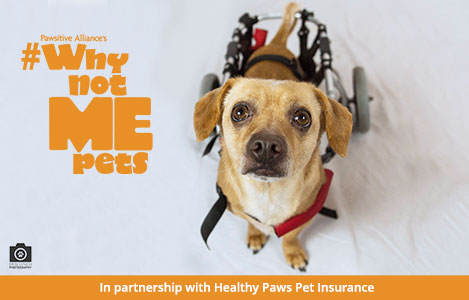 We've partnered with Pawsitive Alliance for the #WhyNotMePets campaign to give difficult-to-home pets an extra paw up. These lovable pets are ready to find their forever homes.
"Chewey is a brave, fun, sweet pup just waiting to find his forever home. He's been looking since May 2016."
MEET CHEWEY.
This four-year-old Chihuahua mix has a big personality and is currently the favorite at Emerald City Pet Rescue. Adorable Chewey suffered a back injury called IVDD (Intervertebral Disc Disease) and had corrective surgery. He is getting stronger every single day due ongoing physical therapy and an occasional use of a wheelchair for outdoor walks. His vet says he will continue to improve and make a full recovery, and he's recently started walking on his own!

Chewey is a loyal little dog; he'll follow you around the house and have an occasional bark or two for security, but is a sweet and friendly pup. While he tolerates other dogs, he would probably do best as the only pet in the home given his condition, and he's not a fan of cats (he thinks they are toys!).
If you'd like to open your home and heart to this extremely special little pup, call Emerald City Pet Rescue at 206-557-4661 or email to set up a meet and greet. Chewey's Petfinder listing says he's fully vetted, microchipped, and neutered.
Every Wednesday, Healthy Paws will highlight a new pet from Pawsitive Alliance's #WhyNotMePets campaign. Visit the #WhyNotMePets page for a list of adoptable dogs and cats.