Pet Care. Pet Training. Pet Stories.

Pet Care. Pet Training. Pet Stories.
Wildfire Safety for Pets
08/16/2018 by
Colleen Williams
August 16th, 2018 by
Colleen Williams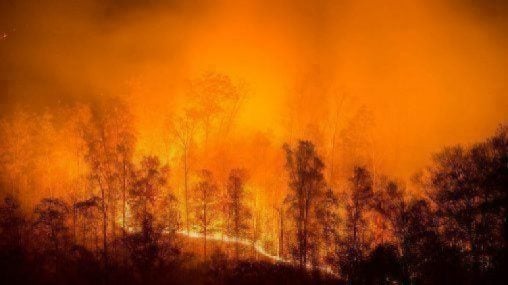 As a Washington-based company, Healthy Paws has been very cognizant of the wildfires affecting California, Oregon, Washington, Idaho, and into Canada. Almost daily, the news reminds us of poor air quality as well as evacuation plans should you be in harm's way. Naturally, our thoughts go straight to our families – and that includes our pets.
Does the Air Quality Warning Affect My Pets?
Unfortunately, yes. Our dogs and cats need to stay inside more during wildfire smoke issues, especially when there are air quality warnings. News station WCRBTV ran an article in 2016 about fires in Tennessee, quoting veterinarian Dr. Jamie Craven: "Dogs and cats are not too much different from us; they have basically the same anatomy so the same things that affect us are going to affect them."
The AVMA (American Veterinary Medical Association) advises seeing a vet asap if your pet exhibits the following symptoms, especially for pets with already existing medical conditions that could make them very susceptible:
Coughing or gagging
Difficulty breathing, including open mouth breathing and increased noise when breathing
Eye irritation and excessive watering
Inflammation of throat or mouth
Nasal discharge
Asthma-like symptoms
Increased breathing rate
Fatigue or weakness
Disorientation or stumbling
Reduced appetite and/or thirst
The AVMA says to limit outdoor time if you are under air quality alerts, restricting to bathroom breaks and skipping the exercise and play sessions. Easier said than done for those with exuberant puppies, but they may be a little bit lethargic during the smoky days.
What Should I Do in the Event of an Emergency?
For full emergency tips like CPR instructions and first aid, please see Be Prepared: Emergency Pet Safety. If you are in a dire situation right now with a pet, please call your nearest veterinarian.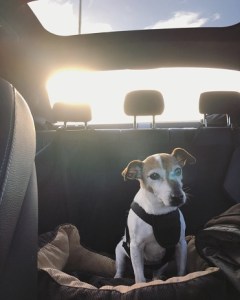 Be prepared before a natural disaster by having a plan. Most of us know when we live in disaster zones, so being prepared for these moments helps a lot! Know where to go if you have to evacuate, pack food and water, and a first-aid kit.
Evacuate with your animal. FEMA advises to take your pets with you: while pups like Odin make national headlines, most of us do not want to risk leaving our pets behind as they can get lost, injured – or worse. Never, ever leave a pet chained outdoors. If the human shelter or evacuation area you are headed to will not allow your pet, contact an animal shelter for resources. The Washington Post reported in September 2018 that more shelters, hotels, and other evacuation centers have started to accept pets.
Help others if you can, but get yourself (and your family) safe first.
How Can I Help?
The Healthy Paws Foundation has donated some funds to help California shelters who are on the front lines of rescuing animals from wildfires, and we recommend them whole-heartedly to our readers and pet parents: The Milo Foundation and Mad Dog Rescue (both were recently featured on ABC). We also recommend any reputable nonprofit in wildfire areas that is actively working to rescue, evacuate, and give shelter to animals in need during this time.
Pets are a big part of our family and they trust us to take care of them, so do as much as possible to help your pets get to safety. And while you certainly can't prevent natural disasters, you can be prepared for any calamities that include your furry friends. If you're not already a part of our pack, start by getting a free quote.