Pet Care. Pet Training. Pet Stories.

Pet Care. Pet Training. Pet Stories.
Can Dogs Eat Strawberries?
09/17/2018 by
Colleen Williams
September 17th, 2018 by
Colleen Williams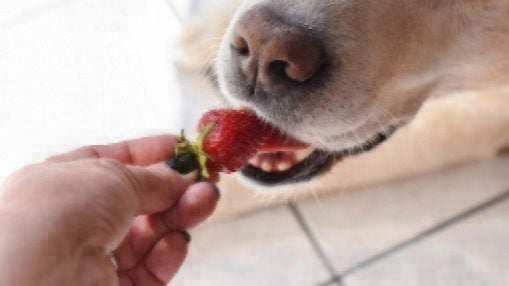 Yes, strawberries are safe for dogs to eat, and are chock full of antioxidants, fiber and vitamin C. It's also said that strawberries can help "whiten" your dog's teeth! Only feed a few berries at a time, as strawberries are naturally sweet and too much can cause diarrhea or gastrointestinal upset.
Benefits
Most pet parents just want to make sure strawberries are okay should their dog sneak one. However,  if you find your dog really likes strawberries, rest easy knowing the following benefits:
Full of antioxidants
High water content
A good source of fiber and vitamin C
Good for teeth!
Hazards
Do not feed your dog canned or strawberries in syrup as they can be very sweet, or worse, sweetened with xylitol (which is toxic). It's also a firm no to the toxic chocolate-covered strawberries, as well as other desserts like strawberry ice cream and strawberry shortcake are just too rich and high in sugar for pups.
Ingredients
1/2 cup diced strawberries
1 banana
1 1/2 cups whole wheat flour
1/4 cup whole grain rolled oats
1/4 cup sugar-free (and no sweetener added) plain applesauce
Instructions
Put banana and strawberries in a blender. Mix until smooth. Set aside.
In a large bowl, add flour and whole grain rolled oats. Mix until combined.
Add strawberry and banana mixture, and applesauce to the dry mixture. Stir until dough is moist but firm, knead with hands if necessary.
On a parchment paper-lined surface, roll out dough to ¼ thickness. Cut with cookie cutters and place on cookie sheets.
Place cookies in oven and bake for 15-20 minutes.
Remove cookies from oven and place on cooling rack overnight.
Store cookies in airtight container or bag and keep in refrigerator or freezer.
What about other berries? Find out more about safe versus toxic berries here, including raspberries, blackberries, blueberries, and cranberries.
Curious about what is okay and not okay for your dog to eat? Check out our comprehensive guide on what human foods are safe and not safe for dogs.