If you're like us, your dogs or cats aren't just pets. They're a special part of the family. From being the lovable playmate to your trusted companion, your pet is always there for you as a loyal friend. Protecting your pets' health with Healthy Paws makes it easy to give them the best medical care while protecting your bank account from unexpected, and expensive, veterinary bills.
Here's why we are the #1 Customer-Rated
Pet Health Insurance
Plan1:
One Plan. Four Paws. All Covered
We offer one easy-to-understand
pet health insurance plan
covering everything that matters including injuries, illnesses, genetic conditions, and emergency care. You pay as little as 10% of your veterinary bill. If your pet needs treatment for any accident or illness, and it's not a pre-existing condition, you're covered. It's that simple!
"I would recommend Healthy Paws to anyone who loves their pet. They have been a life saver and without them I'm afraid we wouldn't have our baby with us today."
- Dennis, Pet Parent to Junior
---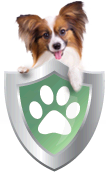 Unlimited Benefits. No Caps on Claims.
We want you to focus on your pet's care, not the cost. So our pet insurance plan provides unlimited lifetime benefits with no annual or per incident caps.

Healthy Paws is the only pet insurance company that offers unlimited lifetime benefits with an annual deductible.
---
Committed to Our Customers
Our commitment to our customers is to provide unparalleled service and support, and access to the best
pet health
plan on the planet. It's just one of the reasons why we are the #1 customer-rated pet insurance company.
---
Fast Claim Reimbursements
We take helping you care for your pet very seriously, including sending you a reimbursement check quickly. Our team of pet passionate, veterinary professionals work tirelessly to process most claims within 10 business days.
"I brought my puppy to my vet on a Friday at 2pm, and by 6:30pm, I received an email from Healthy Paws stating my claim had been received, processed, and mailed that day! Healthy Paws is absolutely phenomenal in customer service."
- Laura C., Pet Parent to Maggie May
---
Coverage with a Cause™
Healthy Paws is a mission-driven company. Through our Foundation programs, we help pet adoption groups grow, thrive, and help thousands of homeless pets find new homes. So when you choose to insure with us, you're not just protecting your pet, you're also helping a whole lot of homeless pets!
---
1
#1 Customer-Rated Pet Insurance Plan at Pet Insurance Review as of April 2014.