One Plan. Four paws. All Covered.
One plan covers everything that matters including injuries, illnesses, genetic conditions, and emergency care. You pay as little as 10% of your vet bill. See any licensed veterinarian including specialists and emergency animal hospitcals to treat ay accident or illness.
With Healthy Paws, you and your co-pilot have:
Smart, affordable coverage

If your pet needs treatment for any accident or illness, and it is not a pre-existing condition, you're covered! It's that simple. And affordable with monthly premiums starting at just $15 per month for cats and $30 per month for dogs.

More benefits

With speedy reimbursements, no per incident or annual limits, and amazing customer care, Healthy Paws is always there for you.

Helping homeless pets

When you insure your pet, you support Healthy Paws' efforts to help animal rescue groups save even more homeless pets.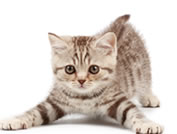 Call Healthy Paws with your specific pet insurance questions at 1-800-453-4054. They have answers.