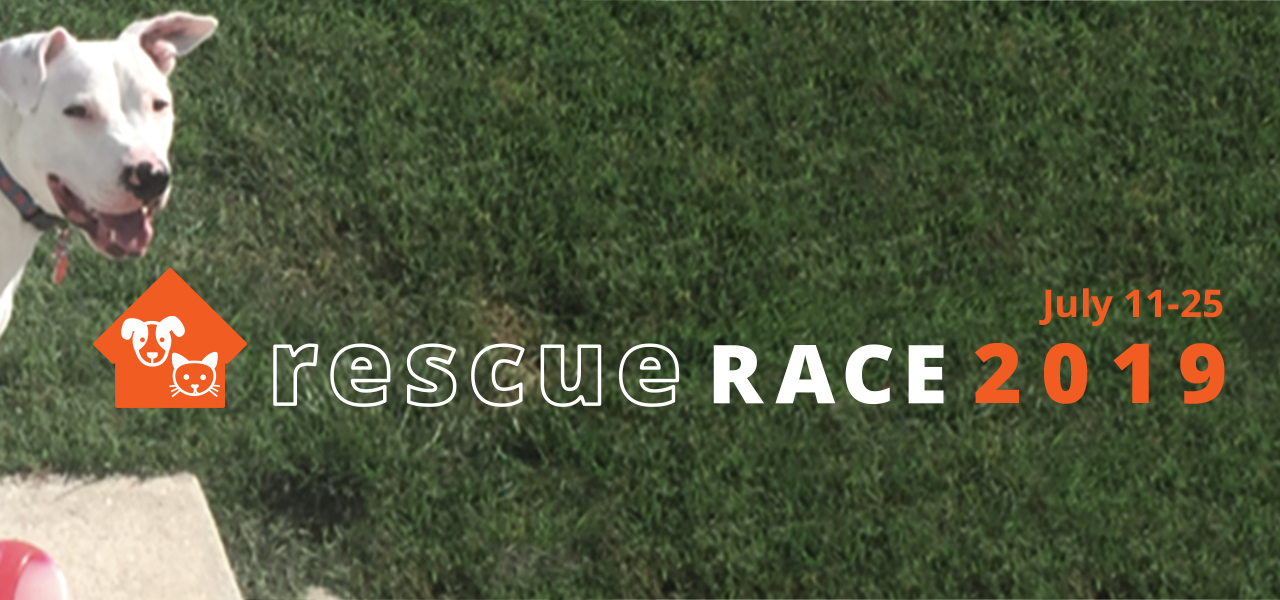 The Healthy Paws Rescue Race is a charitable initiative founded by the Healthy Paws foundation that supports multiple nonprofit organizations who help homeless pets. After an online "race" over two weeks, we award grants to six organizations that range from $5,000 to $20,000 ($70,000 total per race).
How Does It Work?
Healthy Paws selects six non-profits to run for the money - online! Each organization tells a happy story of how one of their pets were adopted, along with their mission on how to save more homeless pets, and then people vote for their favorite. Organizations can share on Facebook, Instagram, Twitter, and more, getting their fans and community to vote for them online. Every organization will receive a minimum of $5,000 and the one with the most votes takes home the biggest grant of $20,000.
Here are the results for the July 2019 Rescue Race
Fur Fun Rescue $20,000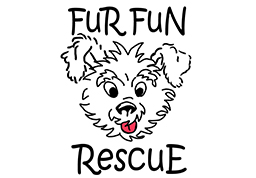 Fur Fun Rescue $20,000
Foster-based Fur Fun Rescue (FFR) of Eastern Iowa is focused on "rescue done right:" to ensure animals get medical care and transportation in order to prevent the euthanasia of healthy, sick and elderly pets. The grant money will help FFR provide more resources to reduce local euthanasia rates. Visit Fur Fun Rescue's website to learn more about their life-saving work.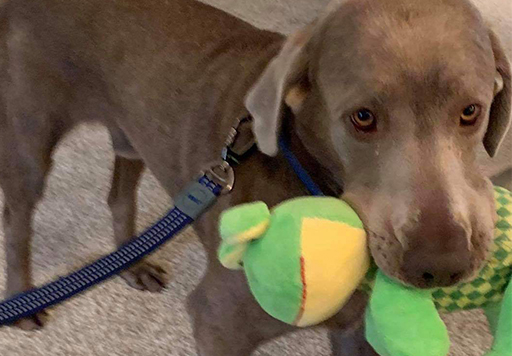 Baloo's Rescue and Miraculous Transformation
After their owner passed away, Baloo and five other dogs were left to fend for themselves in the confines of an unsupervised home with dwindling access to food and water. When rescuers found the dogs, they were estimated to have been left for two to three weeks!
Baloo was very emaciated, frightened, timid, and appeared to have injuries to his legs. He was panting and clearly in pain. The shelter that took in Baloo ran X-rays which revealed hip issues, but they did not have the resources to get him the veterinary treatment he needed. This is where FFR stepped in.
At his new foster home, they immediately started Baloo on pain medication and a plan to help him gain weight since he was not fit for surgery in his emaciated state. Despite his hip problems, Baloo sprang back to life upon eating a hearty diet and spending time around the other dogs in the home.
Further X-rays revealed severe hip dysplasia as well as a serious fracture from a former injury that was never properly treated. Baloo also had damage to both front elbows, likely due to the extra weight he had to bear his entire life to compensate for the injury.
After two weeks, Baloo had gained enough weight to be cleared for surgery and he recovered famously. Baloo was adopted by previous FFR adopters who'd had another dog with hip dysplasia, so they were well-prepared to care for his condition. Baloo is thriving in his new home and loves his daily walks, stuffed animals and lots of snuggles.
Animal Aid of Tulsa $15,000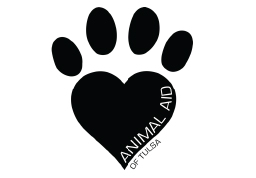 Animal Aid of Tulsa $15,000
Animal Aid in Tulsa, OK provides emergency veterinary care to homeless pets, day and night. They also work to educate people on responsible pet ownership and the need for concern towards animal welfare. Grant money will help Animal Aid cover the high costs of veterinary care and help more homeless animals. Visit Animal Aid of Tulsa's website to learn more about their life-saving work.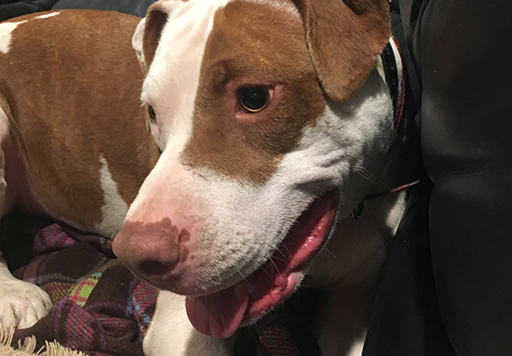 Penelope the "Foster Fail" Helps Other Pets
Penelope came to Animal Aid from a local area that was known to have many feral dogs living in poor conditions. Penelope was malnourished and had a serious case of demodectic mange, a condition caused by mites that results in skin infections and hair loss.
Poor Penelope was practically bald and covered in scabs. She was extremely fearful and could hardly go for walks with her foster mom because she would cower at every noise. Luckily, there were two other rescue dogs in Penelope's foster home with whom she quickly bonded. These dogs taught Penelope how to be a pet and enjoy a loving home.
It was a bittersweet moment for Penelope's foster mom when a great family decided to adopt Penelope. However, despite their patience and dedication, Penelope was not bonding with her new family. When they decided it wasn't the best fit, Penelope's previous foster mom knew that she couldn't let Penelope get away again. Penelope became a "foster fail" and now fills the role of 'mentor' to incoming foster dogs, teaching them how to be pets.
Wendy's Misfits $12,500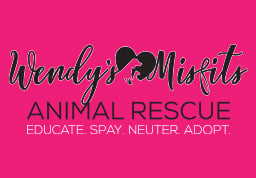 Wendy's Misfits $12,500
Based out of Lufkin in Southeast Texas, Wendy's Misfits is a foster-based rescue organization that takes in abandoned pets, which are often unplanned litters of puppies. The grant money will be used for veterinary care as well as spay and neuter procedures to help prevent the number of abandoned puppies. Visit Wendy's Misfits' website to learn more about their life-saving work.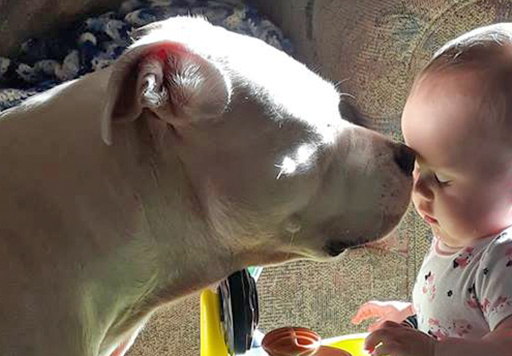 Hurricane Rescue: Getting a Second Chance
In August 2017, Hurricane Harvey passed through East Texas, leaving flooding and destruction in its wake. As they set out to help pets in the affected area, Wendy's Misfits obtained a Pit Bull named Chance from the Army National Guard. Chance had been left chained to a post and was found standing in flood water up to his knees.
No one stepped forward to claim Chance, so Wendy's Misfits was left wondering how to find him the best home. Despite being a lovable sweetheart, Chance was a big Pit Bull whose appearance was intimidating to many. Plus, they didn't want him to wind up in the wrong hands.
Chance stayed with his foster family until July 2018 when a family with a soft spot for bully breeds reached out. "We were originally guarded because of them having a small infant that he could knock over with his tail," said Roxie of Wendy's Misfits. But the family reassured the rescue organization that they had smaller children with their other bully breed dogs who have since crossed the rainbow bridge. Upon seeing Chance interact with his new potential family at a home visit, Wendy's Misfits knew this was a great match. They continue to receive pictures and updates about Chance with his human siblings in his forever home.
HavaHeart Rescue $10,000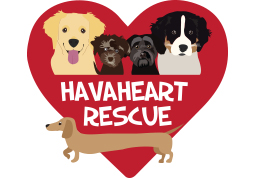 HavaHeart Rescue $10,000
Havaheart Rescue (HHR) of Springfield, MO rescues and rehabilitates abandoned and abused dogs, especially puppy mill survivors that desperately need a safe and loving refuge. With the grant money, HHR will provide medical care and physical and psychological therapy to more puppy mill survivors. Visit HavaHeart Rescue's website to learn more about their life-saving work.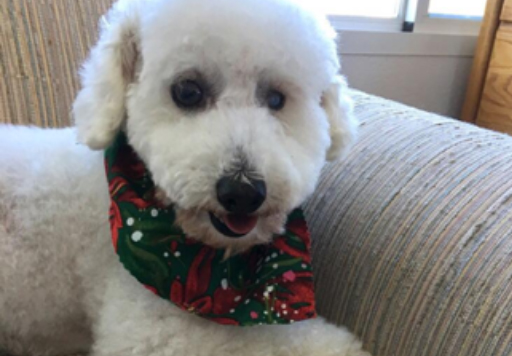 Calvin Finds His Loving Forever Home
Calvin the Bichon Frise began his life at a puppy mill, forced to breed until he was no longer of value to his breeder. They discarded him at a shelter when he was about six years old. During these first years of his life, he knew nothing of a loving home, gentle humans, or dog toys.
The Mississippi rescue was not equipped to care for Calvin's dire medical situation, which included heartworms, arthritis, a blind eye and a bad spider bite, so they reached out to HHR for help. Upon taking him in, Calvin's fur was so matted that it had to be shaved down to the skin which revealed further medical issues including a horrible gash on his back.
Calvin moved into his foster home where he didn't know how to be a normal dog. He kept to his kennel for two weeks and watched his foster fur brother play with squeaky toys. Soon Calvin would discover a small penguin toy that he carried to his bed to sleep with. As days passed, Calvin began to enjoy walks outside, though he could not run due to the heartworms.
Calvin's foster mom wished for the perfect family for Calvin, and that wish came true when two ladies met him and instantly fell in love. Now Calvin gets regular Touch therapy, daily walks and playtime with pet parents that give him all the love he deserves.
I Heart Dogs Rescue and Animal Haven $7,500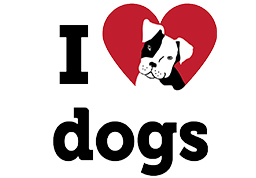 I Heart Dogs Rescue and Animal Haven $7,500
I Heart Dogs Rescue and Animal Haven (IHD) in Michigan has a mission to create a refuge for homeless dogs and those belonging to domestic violence survivors. Funds from the grant will be used to renovate their outdoor and indoor dog yards to create a safer environment with proper drainage for rainy days, as these areas are extremely important to the health and happiness of the dogs while in their care. Visit I Heart Dogs Rescue and Animal Haven's website to learn more about their life-saving work.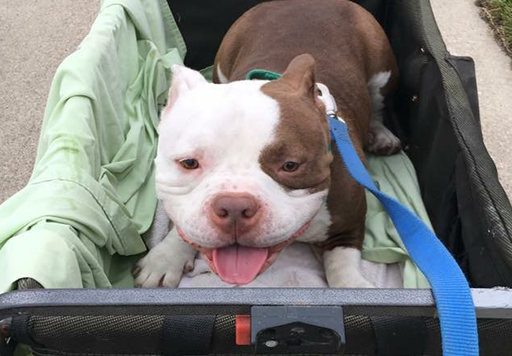 Bowser Doesn't Let His Disability Hold Him Back
After being abandoned by his previous owners, Bowser wound up in the care of IHD. Initially, this young American Bully seemed to be healthy and in good spirits, so they were puzzled as to why anyone would give him up.
However, it quickly became apparent as Bowser made his greeting. "Instead of walking, Bowser slid across the linoleum floors with his face down on the ground and his back legs doing all the work to move himself forward," said Megan of IHD. A veterinary specialist diagnosed Bowser with a skeletal congenital deformity in the front elbows which gave him very little range of motion.
Despite his disability, Bowser was a happy and friendly dog and continued to love life: he would oink like a pig and roll over to ask for belly rubs.
In August 2018, an IHD volunteer wanted to add another dog to the family, so she brought her dog in to meet those available for adoption. There weren't any good matches, that is until they met Bowser. The dogs immediately hit it off and the adopter knew that Bowser belonged in their family. In September 2018, he got to go to his forever home.
Bowser has gotten a wheelchair to support his front, and he began regularly going to physical therapy. He enjoys daily wagon rides to the park where he gets to run around with his fur brother.
Cat's Cradle of the Shenandoah Valley $5,000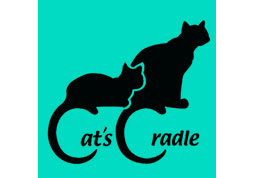 Cat's Cradle of the Shenandoah Valley $5,000
Cat's Cradle (CC) is a foster-based rescue organization in Virginia. The grant will allow CC to provide veterinary care and spay/neuter procedures to foster cats to get them ready for adoption. It will also help to fund their trap, neuter, release program to help reduce the feral cat populations. Visit Cat's Cradle of the Shenandoah Valley's website to learn more about their life-saving work.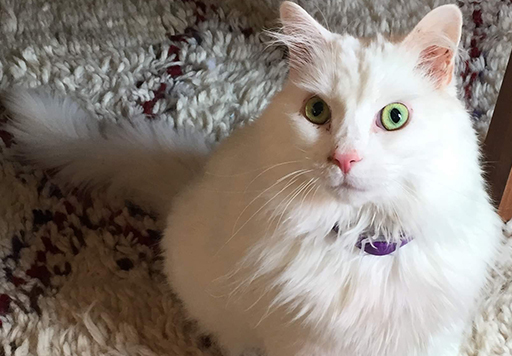 Chirps Overcomes Illnesses and Finds a Forever Home
A good Samaritan found a very sick white cat on the side of the road and brought him to a local shelter. This kitty was very friendly, but needed lots of medical attention, so the shelter handed him over to Cat's Cradle. Due to the unique sounds he made, rescuers decided to name the kitty Chirps.
Chirps had an upper respiratory infection and an eye infection due to hairs growing on the inside of his eyelid. Cat's Cradle treated him for the respiratory issue, but Chirps would need two surgeries to remove the hair follicles from his inner eyelid.
One night after surgery, Chirps' health rapidly declined, so his foster parents took him to the emergency veterinarian. They were initially unable to determine the cause while Chirps' condition continued to worsen. A vet tech from Cat's Cradle suspected toxoplasmosis, so they began treatment with antibiotics and palliative care.
Luckily, the suspicion was correct, and Chirps' condition turned around. Unfortunately, he had lost his eyesight permanently. Chirps gradually adjusted to life as a blind cat and learned the layout of his foster home by following the sounds of footsteps or a jingling toy. Other foster kittens in the home helped keep Chirps' spirits high by snuggling and playing with him. After all he'd been through, Chirps' foster family knew that he'd found his forever home with them and made the adoption official. His mom said, "he is the most pure spirit that I can imagine."
Want to be considered for the next Rescue Race?
Do you know of a companion animal rescue organization or shelter that should be considered for the next Healthy Paws Rescue Race? Introduce us (especially if that organization is yours)! Send us an email to rescuerace@healthypawspetinsurance.com that includes their website and a monitored email address.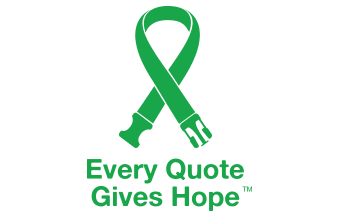 With every free quote for pet insurance Healthy Paws donates money towards a homeless pet's medical care, via the Every Quote Gives Hope program.