Media and Press
Healthy Paws Pet Insurance is the #1 customer-rated pet insurance company offering comprehensive accident and illness coverage for dogs and cats. Here you can find our most recent awards, media coverage, news and press releases.
Recent Press Releases
Reports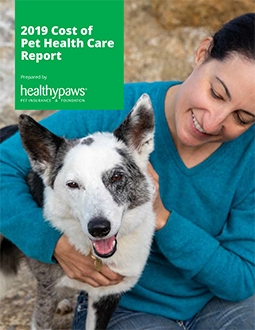 Cost of Pet Health Care: 2018
After examining incident data from more than 500,000 claims filed between June 2017 and June 2018, we've identified the most common reasons our dogs and cats visit the vet, and how much pet parents can expect to spend for the latest and greatest treatment.
Healthy Paws in the News


The most popular cat names in the US
Healthy Paws provided the top ten male and female cat names that were most popular in 2017.


As Veterinary Bills Add Up, More Pet Owners Opt for Insurance
Healthy Paws' CEO and co-founder Rob Jackson discusses how pet insurance is growing among pet parents and will continue to gain in popularity.


The Biggest Financial Shocks For Pet Owners (And How To Avoid Them)
Healthy Paws CEO Rob Jackson weighs in on how pet insurance can help the affordability of pet health care.


6 Ways to Save Money on Pet Costs, According to a Veterinarian
Healthy Paws CEO and co-founder Rob Jackson offers information on the cost of pet insurance when pet parents are looking to buffer the cost of a pet's accident or illness.


Top 10 Reasons Why Pets See a Veterinarian
VPN picks up the Healthy Paws' annual Cost of Pet Health Care report, letting readers know that skin and eye conditions and stomach issues are among the top five most commonly seen at the vet.


Soothe the Financial Bite of a 'Bad' Dog
"Dogs that are curious and adventurous can cause a lot of financial distress," says Healthy Paws CEO Rob Jackson. Here's how pet insurance can help bridge the gaps in your personal finances.
Media Contact
Christie Zielinski
KemperLesnik
312.888.2107
Get an instant quote now and take the first step to protect your furry best friend.