Media and Press
Healthy Paws Pet Insurance is the #1 customer-rated pet insurance provider offering accident and illness coverage for dogs and cats. Here you can find our most recent awards, media coverage, and media resources.
Reports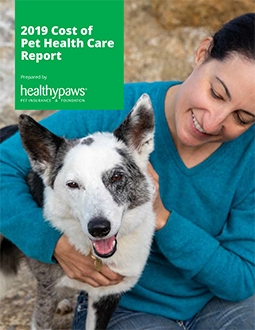 Cost of Pet Health Care: 2019
After examining incident data from more than 800,000 claims filed in 2019, we've identified the most common reasons our dogs and cats visit the vet, and how much pet parents can expect to spend for the latest and best treatments. On the whole, U.S. pet parents spent 4.8 percent more in 2019 than they did the previous year.
Healthy Paws in the News


Healthy Paws Ranks #1
Canine Journal has ranked Healthy Paws #1 yet again this year for best pet insurance provider. Citing "a strong and consistent offering" as well as offering an excellent product with great pricing and customer service to back it up, Canine Journal recommends Healthy Paws for pet insurance.


More Pet Insurance Policies Are Being Sold. But Are They Worth the Cost?
Rob Jackson, Healthy Paws CEO and co-founder, talks about how pet insurance can save pet parents thousands of dollars in light of new veterinary treatments.


Healthy Paws Ranks #1 for 2019
Top reviews website PetInsuranceReview­.com has analyzed its ratings of pet insurers for 2019 so far, and the results are out. Healthy Paws earned first place rankings for overall rating, customer service, and claims process.


6 Ways to Save Money on Pet Costs, According to a Veterinarian
Healthy Paws CEO and co-founder Rob Jackson offers information on the cost of pet insurance when pet parents are looking to buffer the cost of a pet's accident or illness.


The Best Pet Insurance Companies of 2020
Money Magazine names Healthy Paws their No. 1 pick for pet insurance in 2020, saying it's the best value and reimburses in as little as two days. They report that owning a dog can cost $42,000 over 10 years and suggest that pet insurance can offset that.


The best pet insurance companies for your beloved cats, dogs, and more
Business Insider names Healthy Paws the runner-up in its best pet insurance overall category. "Healthy Paws pet insurance earns high marks from customers and covers pets with no per-incident, annual, or lifetime caps. That takes away the financial risk of surgeries, cancer treatments, and other high-cost care," they write.
Media Contact
Christie Zielinski
KemperLesnik
312.888.2107
Get an instant quote now and take the first step to protect your furry best friend.