Compare Healthy Paws vs Trupanion Pet Insurance
When comparing Healthy Paws to Trupanion, pet parents should review Trupanion's per condition deductible and their additional fees for alternative care.
Customer Rating
at

PetInsuranceReview.com

PetInsurance Review.com

9.8
9.2
Deductible Type
Annual
Per Condition
Insurance Carrier Rating
A+
Not Rated

Included

Not included or some exclusions
Per-Condition Deductible Rather Than Annual
Trupanion has a per-condition deductible (you select the deductible amount when signing up: $0 to $1,000 per condition). This requires their customers to pay the full deductible with each condition and typically reduces claim reimbursement during the course of the policy year. Healthy Paws has an annual deductible based on your pet's policy year to help maximize claim reimbursements.
Alternative Care
With Trupanion, alternative care coverage (such as acupuncture, physical therapy, hydrotherapy) is only covered by purchasing an optional add-on benefit package. Healthy Paws includes alternative care at no extra cost.
Insurance Carrier Rating
Trupanion's underwriter is the American Pet Insurance Company, a company not rated by A.M. Best and has less than $45 million in policyholder surplus to pay claims. Healthy Paws is underwritten by Chubb Limited, an A+ rated insurance carrier with more than $48.5 billion policyholder surplus to give you confidence that we will protect your pets today, tomorrow, and long into the future.
Get an instant quote now and take the first step to protect your furry best friend.
This information is provided as a helpful pet insurance comparison guide between Healthy Paws and Trupanion. Plans change on occasion and we recommend that all pet parents complete their own research.
Start Your Rates
Giving Back
Your enrollment helps homeless pets!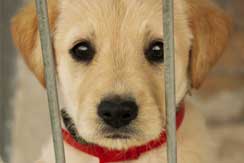 Learn More