Compare Healthy Paws vs Petplan Pet Insurance
When comparing Healthy Paws to Petplan, consider several items including Petplan's annual limits on claims, and the confusing choice between annual or per-incident deductibles.
Unlimited Lifetime Benefits
with No Claim Limits
Depends on Plan Purchased
Customer Rating
at

PetInsuranceReview.com

PetInsurance Review.com

9.8
9.2
Deductible Type
Annual
Annual or Per
Condition Per Year

Included

Not included or some exclusions
Complicated Plans with Limited Options
Two of Petplan's three plan options have annual limits on what they will reimburse their customers ($5,000 or $15,000, depending on your plan) with only their most expensive plan providing unlimited coverage. With advances in pet medical care, your veterinary bills can easily exceed those limits, leaving you with a large amount left to pay. Healthy Paws has one simple plan that provides you and your pet with unlimited benefits for life!
Per Condition Deductible or Annual Deductible?
Petplan has annual deductibles from $100 to $1,000, or you can choose a "per condition per year" deductible. The latter requires the customer to pay a deductible for every separate condition each year. Having to choose between these deductible options makes the policy confusing and difficult to navigate.
Healthy Paws has an annual deductible based on the pet's policy year to help maximize claim reimbursements and is upfront with clear, concise information so you know exactly what will be reimbursed.
Get an instant quote now and take the first step to protect your furry best friend.
This information is provided as a helpful pet insurance comparison guide between Healthy Paws and Petplan. Plans change on occasion and we recommend that all pet parents complete their own research.
Start Your Rates
Giving Back
Your enrollment helps homeless pets!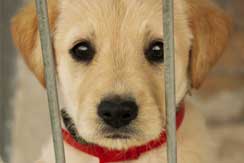 Learn More