Pet Care. Pet Training. Pet Stories.

Pet Care. Pet Training. Pet Stories.
Pup Emergency: Accidents & Wound Care
07/26/2018 by
Colleen Williams
July 26th, 2018 by
Colleen Williams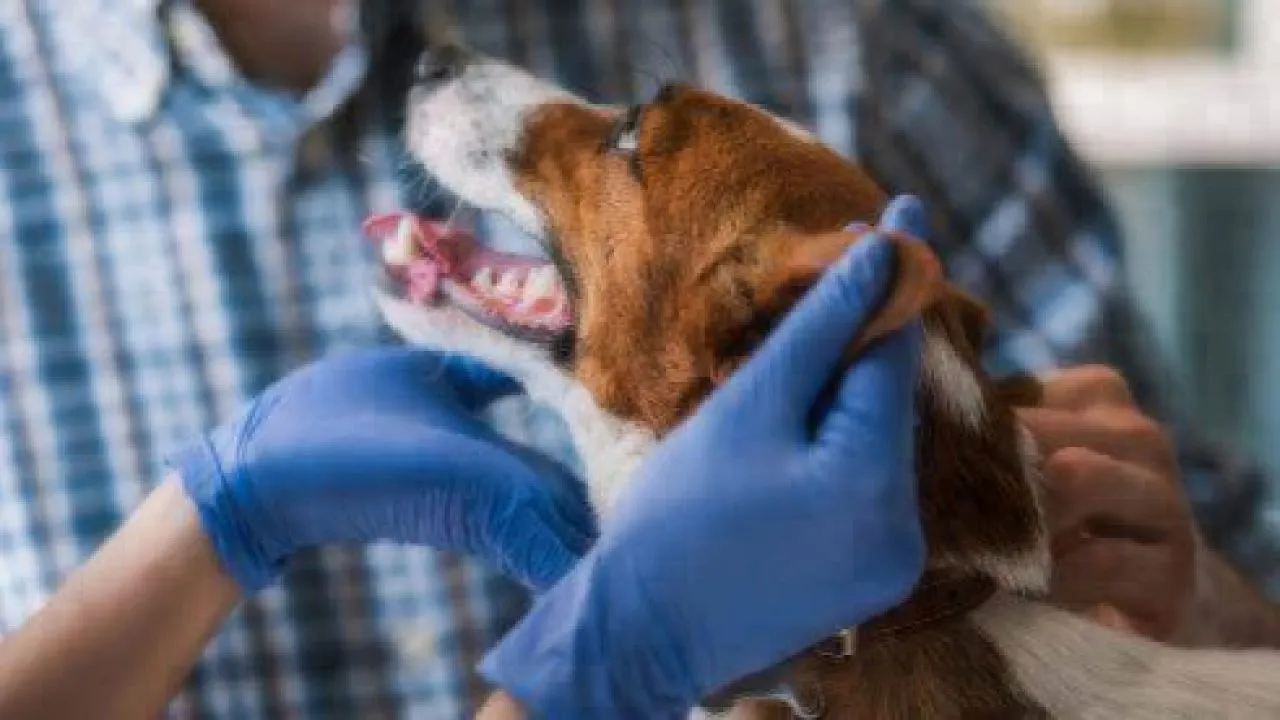 "Tippy is a smart, fetch-obsessed, people-loving lab mix," says pet parent Anna. "I love the fact that she wants to work and learn tricks, but is also content with snoozing under my desk while I'm at work. She's a huge people-fan and will lean up against your legs in hopes of obtaining a good butt-scratch!"
It was only last summer that Tippy was seriously hurt. She was fetching a stick and landed on it wrong. "It pierced an 8-inch hole under her tongue and into her throat –  there was a lot of blood and she was crying," says Anna. "I took her to the SF SPCA Veterinary Hospital, where I had initially adopted her, and knew that one of their locations was open 24 hours for emergencies. Since I've had only good experiences with vets at both hospital locations for Tippy's more routine medical care, I completely trusted them to perform well in emergencies."
What to Expect at the Hospital
"When the vet at the hospital told me how deep the wound was and that Tippy would need emergency surgery, I freaked out!" says Anna. "Tippy came through the surgery okay, but it was a very sleepless night for me."
The shock of simply getting your pet to the vet after a traumatic incident may leave you shaking. Because of the nature of these injuries, vets move fast, and you may have to make quick decisions without thinking. If your pet has been seriously wounded, surgery will probably be necessary, and they are very common at most facilities, so keep heart! The following actions will be taken:
First, the vet and vet techs will be ready for you due to your phone call, so upon arrival, your pet will be assessed in triage quickly. If the techs have cause for concern, your pet may be admitted immediately for oxygen, IVs, and pain relief.
A vet or veterinary surgeon will then examine your pet, and they will discuss with you any tests, treatment, and ongoing care. At this point, it's also likely you will be given an estimate for the cost of the surgery (if needed) as well as the entire visit.
Surgery will likely take place if it's urgent and necessary, and this may take some time. The surgeon will advise you on the length of the procedure. Reminder: for most surgeries, pets will have some of their fur clipped or shaven.
In most cases, if the pet is stable and in good condition to travel, pets are transferred back to their regular vet once they're open (usually the next working day). There can still be a hospital stay at either facility, though, with an overnight staff taking care of your pet.
Finally, the discharge day! Upon transfer or discharge, you'll receive your pet's full clinical history and an invoice which details all the tests and treatments given. Usually the ER will fax or email this information to your regular vet, but getting an extra copy is good advice for on-top-of-it pet parents.

Cost of Treatment
While emergency surgery is essential, it is also expensive, usually totaling over $1,000. Emergencies can happen to any pet, regardless of the situation, breed, or species type, and pet insurance was crafted for these exact moments. Anna was reimbursed $1,312 of the $1,646 bill for Tippy: "Healthy Paws was great through the whole process. I was so relieved that I'd signed up with them: they checked in with me and Tippy to see how she was doing, and sent me a check that covered a large portion of her medical expenses. For me, getting Healthy Paws was so, so worth it and I have peace of mind knowing I have it still."
The Value of Pet Insurance
Pet insurance can save you thousands of dollars if your pet gets sick or injured unexpectedly. For as little as $25/month for dogs and $15/month for cats, the investment in pet insurance can save you up to 90% of vet bills and help you say yes to life-saving medical treatments. It's important to note that pet insurance doesn't cover pre-existing conditions, so the sooner you sign up your pet the better. Getting a free quote is quick & easy. 
In Case of Emergency: Wounds, Broken Bones or Bleeding
Whenever there is an accident or injury, pet parents need to try to keep a cool, calm head and get to the vet as soon as possible, especially because serious wounds can be fatal. Whether your pet has been bitten by another animal or had a rough fall, emergency hospitals are well equipped to help get your best furry friend stable. The first steps you should take in the event of a wound are:
Check to make sure your pet is conscious and not showing signs of shock, which includes pale or white gums, a rapid heartbeat, or rapid breathing. If your dog is unconscious, you'll want to check for a heartbeat and normal respiratory rate, and get on the phone immediately to a vet clinic to talk you through CPR.
If your pet is bleeding, apply direct pressure using gauze, and if the gauze soaks completely through, do not remove it– simply add more gauze on top of it until you get to the vet ER.
Call the nearest vet hospital so they can prepare for your arrival.
Write down everything they say and follow it as closely as you can.
Before an emergency happens, you'll want to check out how to craft a splint or tourniquet, and be prepared with a first aid kit. It should include essentials like food, water, towels, bandages and gauze, ointments and scissors. We also recommend the American Red Cross' "Pet First Aid" and Pet Emergency Pocket Guide (full shopping list for a good first aid kit is available on Be Prepared: Emergency Pet Safety).
In addition to being prepared for an emergency with our Be Prepared: Emergency Pet Safety tips, don't forget to enroll in pet insurance. Having a Healthy Paws policy means you can be reimbursed up to 90% on vet bills, or have the vet hospital be paid directly by us, so you won't have to say no to a life-saving procedure. Start by getting a quote.
Are you a Healthy Paws pet parent with a recovery story to tell? We'd love to hear it! Send your pet's story along with photos of your four-legged family member to happytales@healthypaws.com